Today's listing is to describe the ugliest person in the world. Surely, it's a different idea, unlike the previous articles where I defined beauties from different regions and cultures. Nature is not all about beauty, but ugliness is also a part of it and you will get it right once you read out these ugliest people in the world.
Here are all the details about these persons that how they transformed themselves into a weird look for their happiness. These are people from different fields like but one common thing is their ugliness.
These are not just ugly, but they also scare the readers when you have a look at their pictures.
The list is not in any order; I put them randomly, so you can read it out and decide yourself which one scares you the most.
Top 10 Weird & Ugliest People in the World
So let's known more about these humans who are considered as the ugliest people in the world and how they changed their appearance to look unique in a scary way.
1). Michael Berryman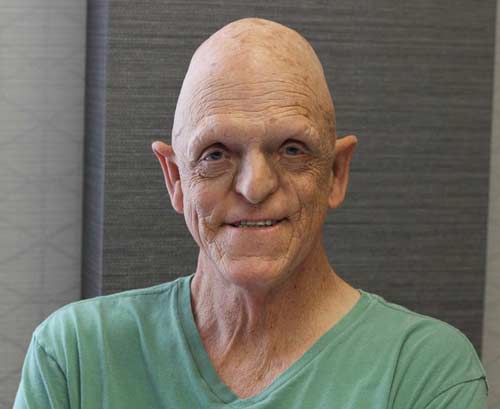 I am talking about Michael Berryman who is known among the ugliest people in the world and at the top of this list because ugliness comes naturally to him.
He has not done any surgery or hasn't gone through any treatment for this look. He is suffering from Hypohidrotic Ectodermal Dysplasia that is responsible for his weird looks. In this condition, an abnormal growth happens to human's hair, nails, teeth, and sweat glands.
Many of you may remember that creepy movie 'Hills have eyes' and this man seems a real character of that script. This man looks weird and unlovely because of his condition, but he makes out his living being like this.
He is now 69 years old who lives in Los Angeles, United States.  Due to his spooky look, he got offers for several movies like a mutant biker, a monster, etc. so this man can be considered lucky and there would be nothing wrong in that as his physical appearance took him to the world of Hollywood to play some nasty characters.
2). Donatella Versace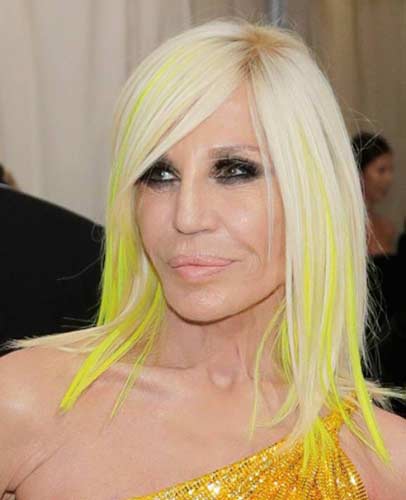 Well, this lady was not born ugly, but now she is considered as being the ugliest woman in the world. She was a beautiful woman when she was born, raised and came to limelight, but due to her malfunctioned plastic surgery, she got this weird look that makes her stand here.
After the surgery went wrong, she now has way big lips and nose, her eyes area is also frustrating, always black like a beast. Her body is too thin as compared to her face, so she looks awkward, so she is recognized now as the ugliest girl in the world.
Donatella was born on 2 May 1955; she works as an Italian fashion designer and also holds the post of vice president for the Versace Group that is an Italy's luxury fashion company.
Her birthplace is Reggio Calabria; she was raised there with her four siblings. Her parents were Antonio Versace (father) and Francesca Versace (mother).
Versace was married to Paul Beck, her former husband. Now, she has been raising her two children: Allegra Versace Beck and Daniel Paul Beck.
3). Marilyn Manson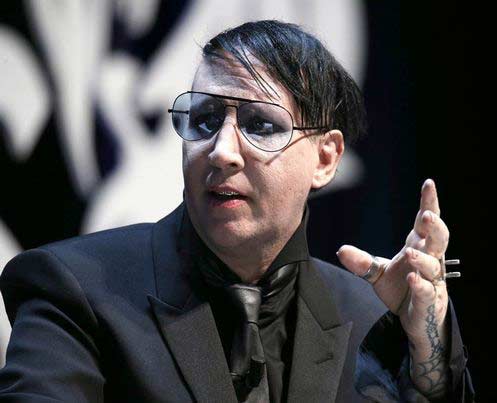 He makes his place among the world's ugliest people due to his scary and weird looks that make him look like a villain all the time. Marilyn Manson is not an ugly human, but he chooses to be ugly to look different and notable.
No knows about his real human looks because he always comes out wearing a creepy and dark makeup that makes everyone scared. He is like a walking nightmare on the streets that if you meet him in a tunnel, you will be dead for sure and this thing makes him the ugliest man in the world.
Brian Hugh Warner was born on January 5, 1969, who is an American actor, artist who loves painting, and also crazy for music that he sometimes works as a dinger and a songwriter
He is always known for his dark personality and the lead singer of his band Marilyn Manson which he and guitarist Daisy Berkowitz found together. Her first debut film was Lost Highway released in 1997 and since then, he has appeared in several movies like Salaam released in 2016 as being his recent role.
4). Tom Leopard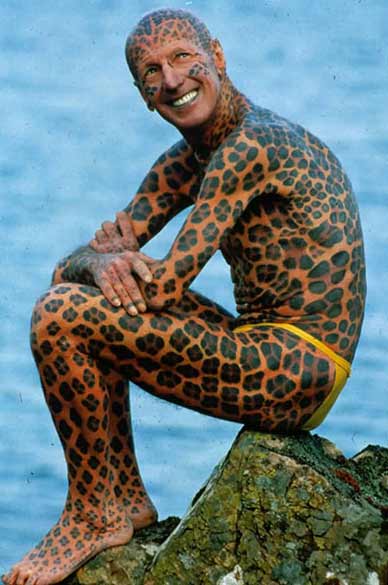 He is considered as one of the ugliest people in the world for the tattoo work on his entire body that makes him look like a leopard. You can see in the pictures, this man seems dressed like a cheetah, but, in actual, he has this bizarre tattoo work.
He died in 2016 when he was at the age of eighty. This man got famous for his tattoo work that formed a cheetah look. This work was on his every body part and sometimes he also copped some action of leopard-like walking on four having the leopard skin.
This man's real name was Tom Wooldridge which then converted into Tom Leopard after he got the tattoo work done. Guinness World Records recorded this man for being the most tattooed man.
As per the records, this man spent approx. £5,500 to get his entire body modifications and make it a leopard looking skin. Tom also served the armed forces for about 30 years and later, he moved to the Isle of Skye and lived there without electricity.
5). Etienne Dumont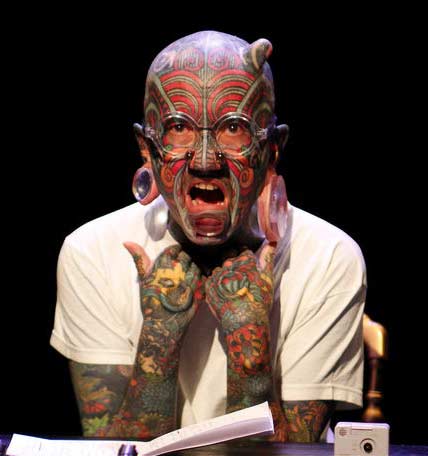 The net one is Etienne Dumont in this list of ugliest people in the world who works as an art critic in Switzerland. He has been serving as a critic for over 40 years as her love is immense about art and culture.
This man has tattooed himself from head to toe including every single body part and now he has become a scary one. This man is known for a bull like looks, and to achieve this look, silicone was implanted under the skin.
There is a ring implanted of five-centimeter, the entire face is decorated with pinned glasses. The man doesn't look less than a horror who got his first tattoo done in 1974 and this way he started this journey.
He has a full body suit made of tattoo and Plexiglas on his chin, nostrils, and earlobes complete the look of a bull.
He wears a titanium ring on his left hand and horns implanted in his head using the silicone. Etienne is also a fond of collecting things that present art from ancient days to show off his love for art.
6). Rick Genest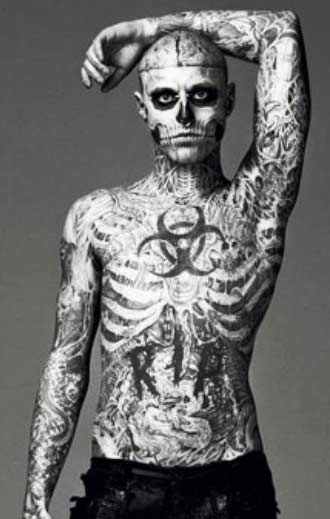 Rick comes in 6th place among these ugliest people in the world who chose to be like this. Due to his tattooed looks from top to bottom, he is known as the 'Zombie boy.' he has gained enough popularity because of her unusual looks that feel quite disturbing and scraping too.
He looks horrible that you can't get a chance to pass him without crying or screaming. Anyone can see that how much he put efforts to achieve this look and how hard it can be to manage this entire Zombie-boy image.
The look is all fake and done by tattoos but it feels like a real skeleton if you see him walking from a distance. There is one piercing just between the eyes and another one on that black marked nose, there is a fake teeth effect just like the skeleton drawn near his mouth.
This Zombie Boy was born on August 7, 1985, LaSalle, Quebec and for her profession, he works as an artist, actor, and also a fashion model.
He was suffering from a brain tumor before living this Zombie Boy life. Then, after surgery, he decided to move out from home and live a life just like the zombies. He started living downtown, in dumpsters or under bridges and started Hitchhiking as his training method.
7). Kala Kaiwi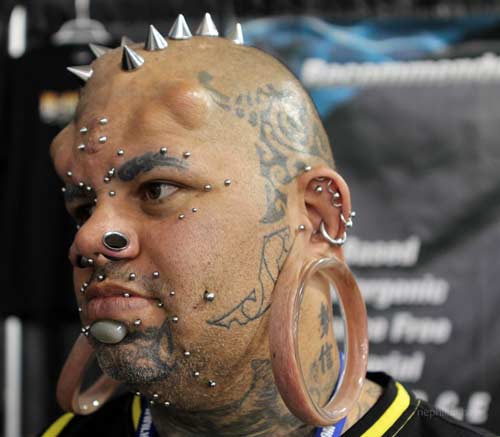 For me, this man is really weird having all those glasses punched near his ears and horns like thing. So he deserves being in this list of the ugliest people in the world. This one also got the tattoo look which covers his almost entire body.
Later, after getting this entire tattoo thing, he decided to have a snake like tongue, horns by the silicon planting method, and metal horns on the head. Due to his wild looks, people often consider him the shadow of Satan which means bringing evilness and desires.
Kala Kawai deserves this being here as he is not just one of the ugliest but lo one of the scariest people. Kala has his own tattoo Studio in Hawaii and his personality suits his profession well, so In USA, he is a well-known tattoo artist having his entire body tattooed and pierced.
His body includes those stretched earlobes, 75% tattooed body, piercings over 70, stretched nostrils, silicone implants and those metal spikes.
He is popular for body modification in his studio where he is proficient in several techniques like body piercing, genital beading, scarification and branding in which design go permanently into the body.
8). Pauly Unstoppable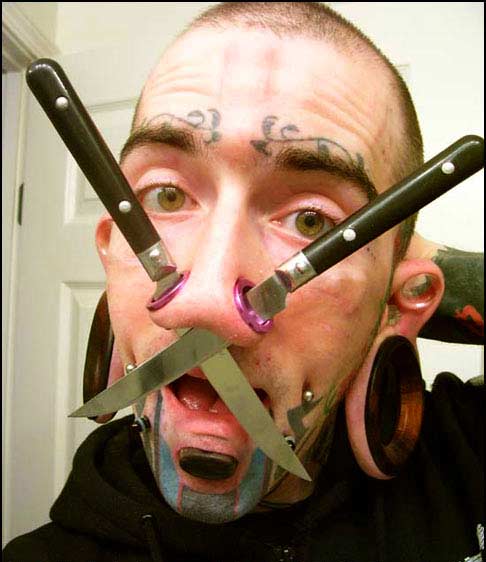 Pauly seems fine without that tattooed image and he was a nice looking guy before he did all these piercings and body modifications. Since now he is all tattooed and holed, he looks horrible who scares often, so I put him among the ugliest people in the world.
He has holes on his nose covered by huge rings, and tunnel effect in his ears. You can also see him putting scissor through those holes in the nose.
He seems like he had done some horrible things to his body that makes him the most terrible person. His tongue is divided into three parts, what can be crueler than this act to your own body.
Though he sometimes can prefer as the sophisticated one among all these tattooed men, but, he falls here as being the ugliest one.
9). Eric Sprague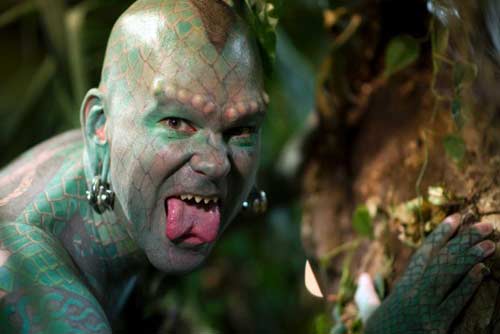 Eric is known as the first person who chose the snake tongue as the new art to his body. Due to his lizard looks, he easily makes a place among the ugliest people in the world. Eric chose a green theme for his entire body to give him lizard like look, so he decided to split his tongue into two parts.
When he created this snake tongue, he used to practice stretching it out, so it won't get combined. He looks terrible being a man-lizard as you can easily notice by his appearance.
He has painted his entire body greenish and there are tattoos all over also in greenish shades. He has done some silicone experiments to his teeth that offer him a real lizard look.
Erik got birth on June 12, 1972, and now he is famous as the Lizardman. He works as a sideshow performer who is best known for his body modification like those sharpened teeth, green tattooed body, split tongue, and green-inked lips.
10). Dennis Avner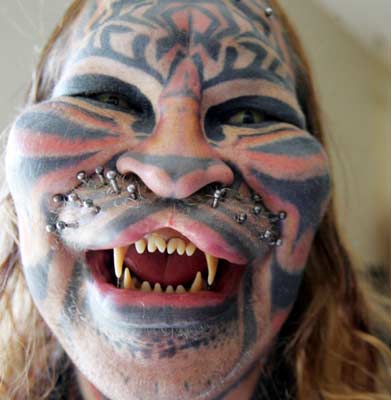 Dennis Avner means the 'Tiger man' or the 'Cat man' sometimes. He also fills up the place of the ugliest people in the world and he is the biggest popularity for modifying his body to this great extent.
Dennis decided to change his looks because this man has some special love for the image of the tiger that inspired him to modify his body into a tiger looking man.
Today, you can see his body with a lot of tattoos that indicate his love for the tiger image that overall resembles a tiger. Not just his body, but he has got some modifications done to his teeth, he has sharpened teeth that offer him a resemblance to a cat.
Dennis looks nothing like a human from his face because he has got several surgeries to enter the tiger zone from a human face. He has done upper lip surgery, modified forehead, eyebrows, correction of the hairline, and nails modification. These all changes make him the ugliest person in the world.
Hand Picked Stuff For You:
Conclusion
I think you would love reading about all these ugliest people in the world. They are all famous for using the piercing and tattoo making technique differently which provides them different and horrible looks. So read them out here and share your opinions.