Technology has come a long way since the straight razor, bristle brushes, and barber poles. The blades are getting smarter, faster, and easier than ever to adjust for the perfect length and ideal trim to suit every face and preference. For the man with a tight schedule, that means groom times are shortened. Going from full winter beard to a stylish stubble with straight lines or intricate details is not a problem.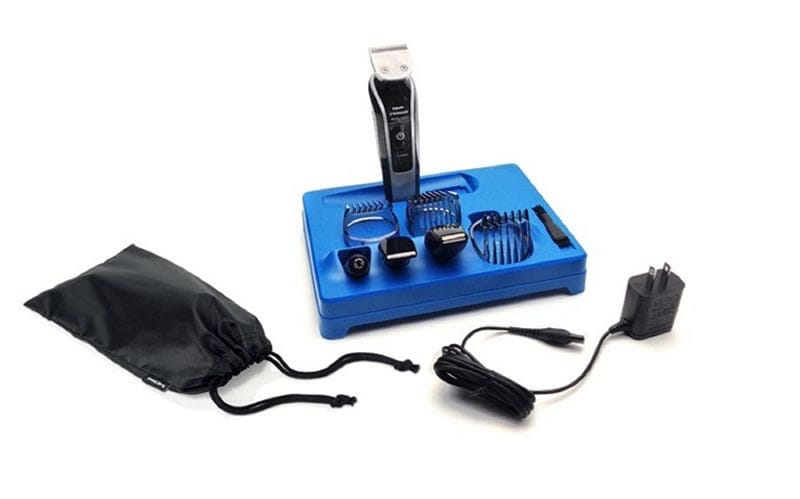 Whether today's busy man desires a sharp trim, quick touch-up, or needs a head down overhaul, one shaver should do the job fast, efficient, and easy. A good electric razor does the job adequately, but an exceptional one must have the ability to tackle the coarsest beards to the finest stubble without the hassle of cords, charge times, and blade care.
It's got power and precision
No matter what beard thickness, the Philips Norelco Multigroom 5100 Beard, Hair, Nose and Body Trimmer can handle it. The turbo button gives a speed boost to the blades, which is ideal for thick whiskers or full beards. With the eighteen settings dialed in one-millimeter increments, quick tidy sessions come out just as perfect as elaborate details.
Self-sharpening blades provide a clean cut with no pulling, ripping, or yanking. The rounded cutting surfaces give a comfortable shave and glide smooth over the skin to reduce irritation. A gentle shave results in fewer ingrown hairs and reduces the afterburn effects of electric razors that tend to tug and cut.
An included foil trimmer provides a tight-edged, modern finish. The rotary attachments gently remove unsightly nose and ear hair without pain, pulls, or snags. Cleaning up stray cheek hairs, sideburns, the neck, and nape won't take more than a few clicks of the dial.
Read any Philips Norelco 5100 Review to see more ideas concerning the built-in blades and attachment versatility.
It's quick to charge

Some electric shavers can take almost half a day to fully charge and don't run a long time, but this model is done in ninety minutes and provides sixty minutes of cordless use. The lithium-ion battery holds power and can tackle a longer session where other brands may fizzle after ten minutes. The handy quick-charge feature is ready to go in five minutes and can handle a speedy trim. Unlike a fully cordless unit with a power base, if there's no time to charge, the 5100 can also be used plugged in.
In addition to a convenient charging, the unit is water resistant. That means it can be cleaned under a running faucet without worry. Additionally, the cordless operation is 100 percent shower proof. Shaving in the shower eliminates the need for the designated shaving towel to catch the sink fallout and tinsel whiskers lurking around the basin.
It's low maintenance
The blades self-sharpen and require no special consideration. They take care of themselves. Rinse and go. It couldn't be easier.
Additional care required for lubricating the chromium steel blades and brushing dust from parts is not a daily task, but part of occasional routine maintenance common to any electronic device. The provided brush is the only tool required and will keep the unit in prime working order.
It can handle more than the chops

Precision trims, sideburns, moustaches, mature beards, nose, ears, neck, and body hair pose no obstacles for the Norelco 5000 series of grooming tools. The multigroom kit comes with not only heavy-duty clippers but also:
adjustable beard comb with 18 settings in 1mm increments
dedicated stubble comb with 12 settings in 1mm increments
ten-setting body comb
hair comb for multiple styles from 3mm to 20mm
full sized mirror
convenient carry pouch
Other beard trimmers on the market can't do what the Norelco line has packaged into one sleek product. It can tackle a daily groom and handles details to exacting measurements. Elaborate full body grooming or even a beard length that changes with the weather and whims is accommodated without hassle. No matter the style or hair type, one tool does it all and takes up little space when packing light for travel. Neat moustaches, intricate goatees, close haircuts, or three-day stubble are all possible with this everyman trimmer.
Grab it and go
As electric razors go, this chameleon has affordability and packaged convenience in its corner.
quick charge
waterproof
cordless
self-sharpening
lightweight
smooth tug-free trim
It'd be hard to find something not to love about the multigroom kit. Electric razors have gotten better over the decades and this model combines the best of the best and caters to the diverse needs of modern society. Perhaps the only extras it lacks are a whisker-sucking vacuum and a solar-powered battery. If the features of the Norelco 5100 and its series cousins are any indication, self-charging razors with preference microchips are closer to reality than science fiction.