Rocket VPN Review: Who doesn't want to browse safely over the internet anonymously without getting caught? Surely, most of you will love to break through the censorship without getting into the eyes of your ISP or any other third party. None of you will want to sacrifice the security or want an intruder to break through your system's firewall and steal your data. If you really wish to be secure while browsing across the internet and wish to access the blocked websites then VPN is the ideal solution for you.
A Virtual Private Server is capable of keeping your identity anonymous without compromising with the security. The world has gone to mobile these days. Most of the things can be done over the smartphones easily. So, how about a VPN app for your mobile device that will let you browse over the internet with anonymous identity from your mobile. If you are searching for such an app then you must go through our Rocket VPN review below and explore the intricate details of this top notch mobile VPN app.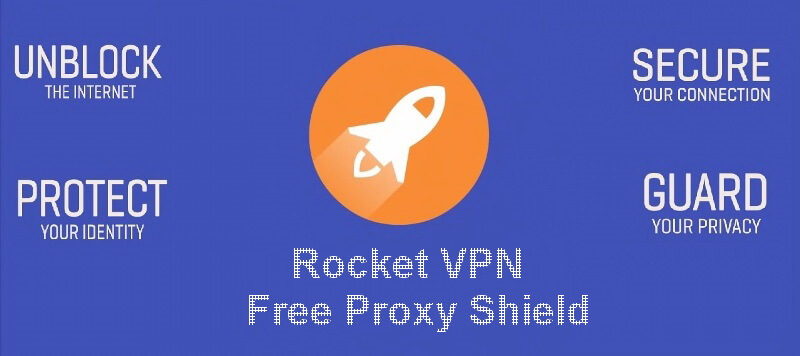 Introduction to Rocket VPN App
Rocket VPN is a mobile friendly application available for the Android devices as of now. The Android smartphone users can stay safe while browsing the internet anonymously. Even their mobile data providers cannot track what websites they are opening the mobile devices. You are allowed to access the blocked websites and censored blocked content on the web at ripening fast speeds. The Android users can encrypt their mobile data, change their country location, and protect themselves from being monitored by any third-party. It offers 250MB free bandwidth to every registered user each month for free. Explore more about it in this Rocket VPN review.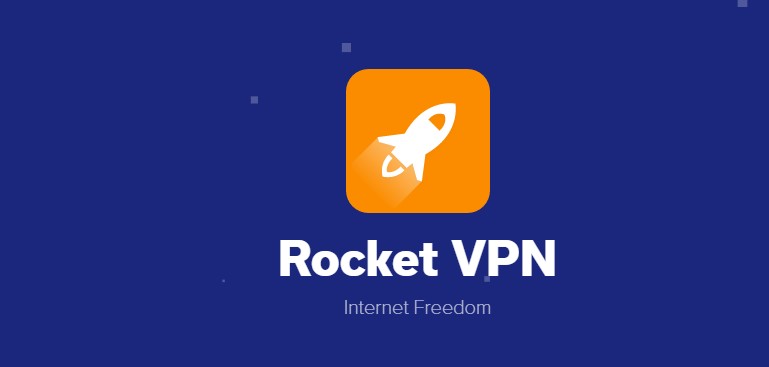 Rocket VPN Review – The Intricate Features
This VPN application is packed with some of the most extraordinary features that will make you spell bound. You will be overwhelmed by utilizing some of the best features of this application without any hassle. Go through Rocket VPN Review further and learn about its features.
User-Friendly Interface
Rocket VPN app uses the transitions and color with perfection to add an eye-pleasing element to its interface. Its home screen is kept really clean and simple. The home screen lets you check the monthly usage, change your preferred location, and access the quick launch applications easily. We can say that its user interface is elegant and clean.
Access Blocked Websites bypassing the Censorship
Either your ISP or your country's government might have blocked usage of certain websites. Also, the TV apps like Netflix, Hulu etc might not allow the broadcasting of certain TV shows in your country. So to get rid of all this sit, you can use Rocket VPN and open any blocked website without getting caught. You can even watch your favorite TV shows by just changing your geo location in the app. Netherlands is considered to be the best location to access any blocked website or TV show.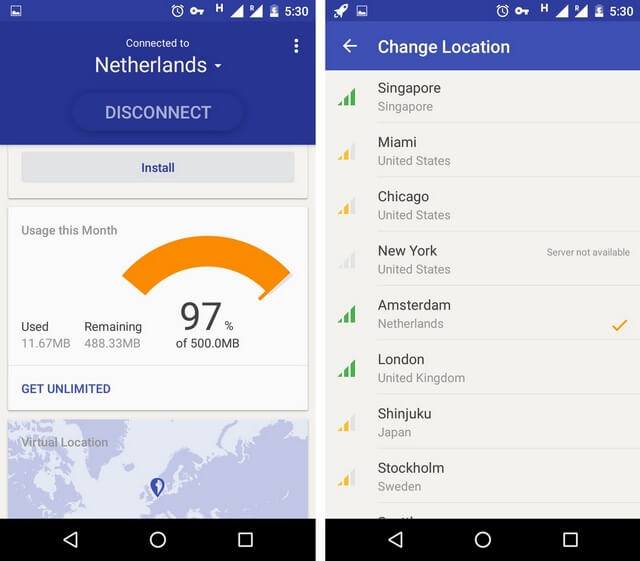 Security & Privacy
Rocket VPN has maintained really high standards when it comes to the security. It ensures that you browse the internet safely and anonymously without coming in contact with the internet spies. Your personal information is well preserved. The data transferred over the servers is totally encrypted and cannot be leaked. The best part is that even your data provider cannot recognize your activities on the internet.
Quick Launch Apps
Its 'Quick Launch Apps' section is on its homepage. This allows you to add any application which you want to run from different location. Its servers are located in 10 different countries. Some of them are – Singapore, Netherlands, USA, UK, Japan, Sweden, and few others. To get faster connectivity, you should choose a server location that is nearer to you.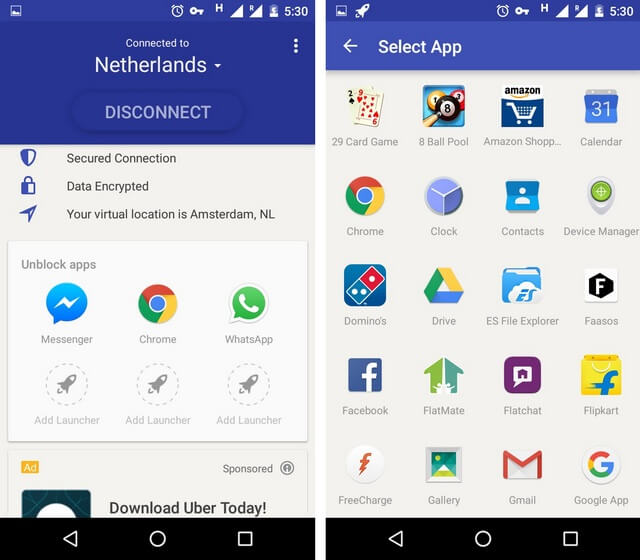 Speed & Performance
Any special hardware configuration is not required to run this application on your Android device. The app performs phenomenally at good speeds. Though the connection speed initially depends on the location you have chosen, but still, the speed is above average. To maintain swift speed, you should always choose your virtual location nearer to your own location. Rocket VPN's speed test result is as follows.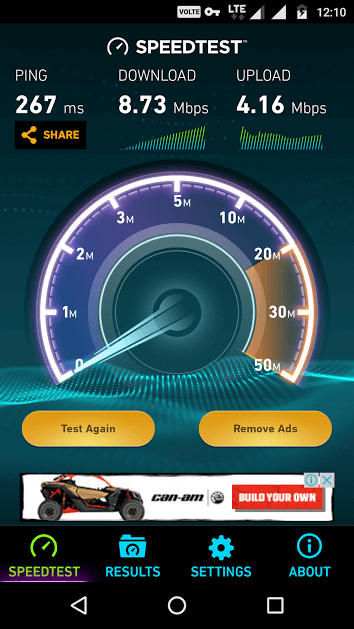 Multi Platform Support
Though it is a mobile app, but it can easily run on tablets and iOS devices along with Android smartphones. The user interface might change a little bit for the iOS devices, rest the functions remain the same. This application is tailored for both Android as well as iOS devices.
Pricing
If you have registered with Rocket VPN app, you will be getting 250MB monthly bandwidth. To use it unlimited on your device, you should upgrade your plan. It will cost you around $2/month if billed annually. You must note that the extra MBs left cannot be taken forward to the next month.
Verdict
Rocket VPN is one of the stunning VPN applications that are available for both Android and iOS devices. The initial 250MBs that are provided to you for free can allow you to test this VPN network. Moreover, your privacy and security is not at all compromised. Its 'No Logs' policy prevent your data from getting stored in its server. This means that you are totally safe and secured from any information leakage. Also, the unlimited plan is very much feasible and affordable for you if you are looking to hide your identity on the internet and access just any website over it.
Store links:
https://play.google.com/store/apps/details?id=com.liquidum.rocketvpn&referrer=utm_source%3Dcrazyask
https://itunes.apple.com/app/apple-store/id1031636239?pt=77611800&ct=crazyask&mt=8