TrafficJunky Review: If you are tired of finding a reliable ad network that will help you monetize your adult content blog then your wait is over. TrafficJunky is one of the few ad networks that can help you to monetize your blog that is rich in adult content. Not only the publishers, but even the advertisers can get maximum benefits out of it. It also allows the advertisers to promote their adult products by serving their ads on some of the top adult websites. If you were in search of such a network from long time then your wait is surely over. Go through TrafficJunky review and learn about it in details.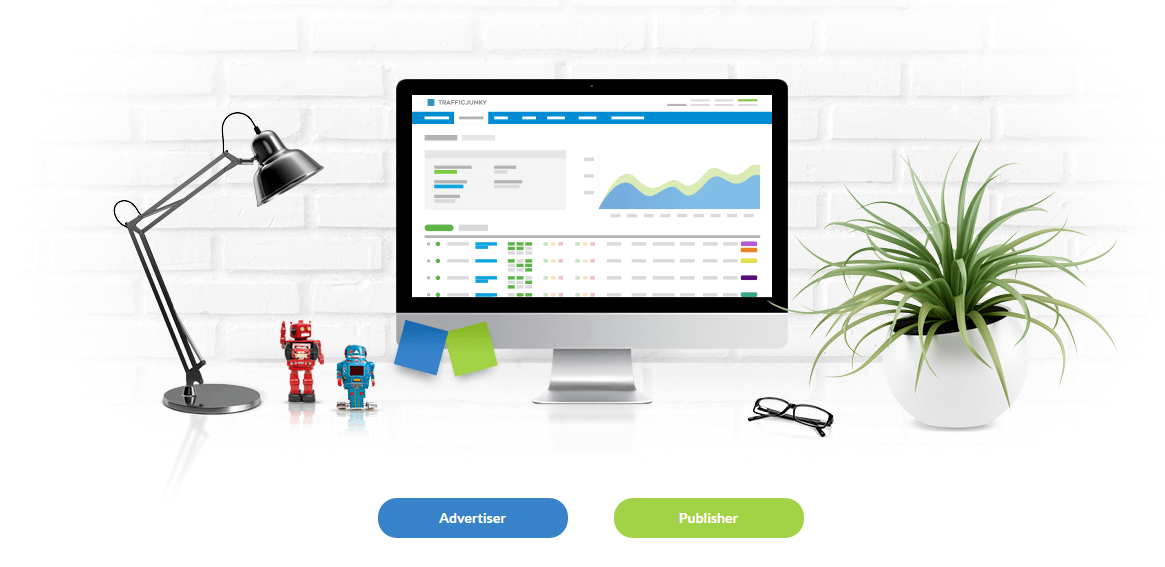 TrafficJunky Review: What is TrafficJunky?
TrafficJunky is a Canada based advertising company that is headquartered at Montreal. It was founded in the year 2008. In just few years, it emerged to be a powerful adult advertising network for both advertisers and the publishers. Since then, it has never looked back and had always tried to serve its customers providing them the maximum benefits. Discover some of the greatest features it provides to both advertisers and publishers in TrafficJunky review below.
How Advertisers are benefited with TrafficJunky?
It has too much to offer to the advertisers and this TrafficJunky review will showcase some of the major highlights how advertisers are benefited using this digital ad network.
Get High Volume of Targeted Traffic: Being an advertiser, you will definitely want quality traffic to be served on your ads. At TrafficJunky, you can ensure the quality of traffic that you will receive on your ads. Your ads will get thousands of impressions each day depending on your campaign. Moreover, you have to pay just for the impressions you need.
Tailored Global Marketing Online: Each ad buying slot can be tailored according to your choice. You can select the specific placements for the ads that will help you in putting the best ad in front of the right user. Its Geo-targeting feature lets you to target specific country, region, or city in the world.
Flexible Ad Serving Platform: Its ad serving platform will help you in reaching your goals and yield good results that you want to expand you're your business. It surely brings a relatively higher conversion rates as compared to other competitors.
Start Low: One of the best things about TrafficJunky is that you can start your first campaign from as low as $25. A minimum balance of $25 must be added into your TrafficJunky's advertiser account to begin the campaign. The campaign rates can be as low as $0.01 for 1000 impressions. What else you can expect from such a high-class ad network?
Statistics: The advertisers can easily monitor the number of ad impressions and the money deducted from their account through TrafficJunky's dashboard.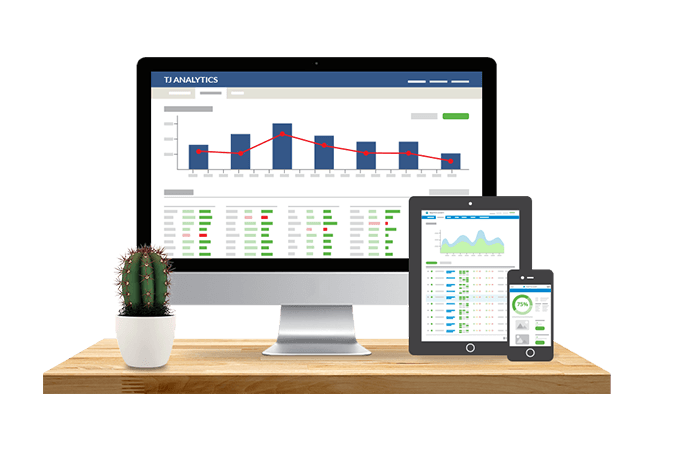 How Publishers are benefited with TrafficJunky?
Just like the advertisers, the publishers can make most out of this network. It provides a better optimized solution to the publishers and the best thing is that they can even use these ads on adult content blog. Check out some of the most versatile features it provides to the publishers in this TrafficJunky review.
Easy Approval Policy: Getting your publisher account approved at TrafficJunky is not at all a difficult task. You just need to have a legitimate website following the TrafficJunky's policies and it should have a decent traffic for monetization.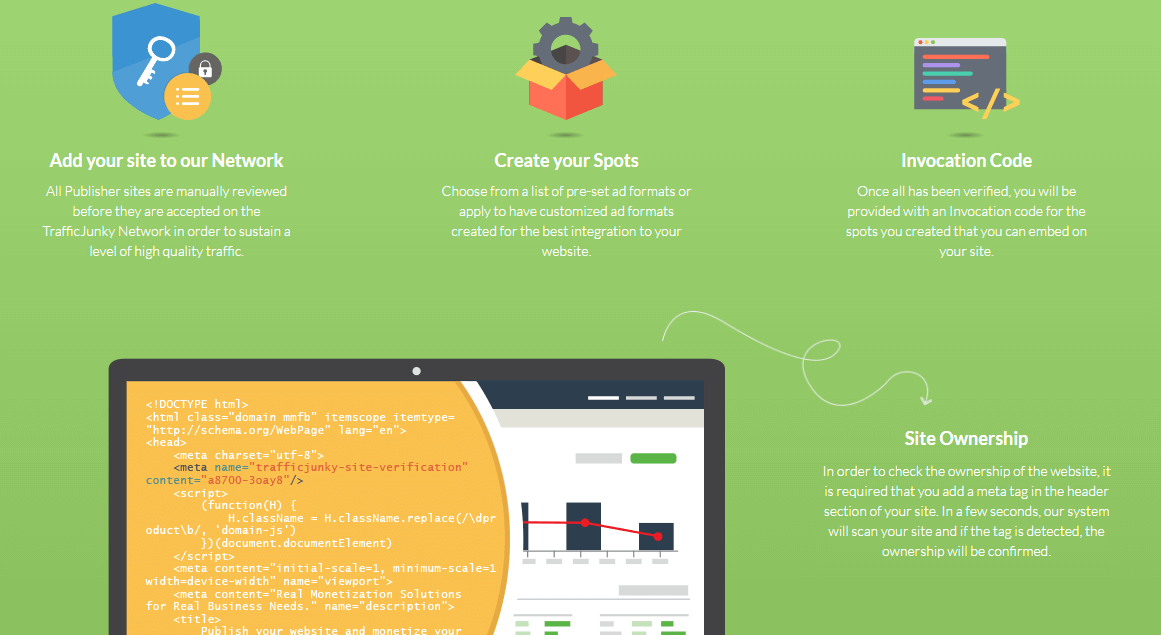 Optimize Ad Slots: The ad slots on your website can be easily optimized by TrafficJunky's smart interface. You can get switch to the banner ads of different sizes to get the maximum impressions. Moreover, the ads are optimized to work on mobile devices fabulously without disturbing the website content.
High Value for your Traffic: TrafficJunky values your traffic. It monitors the total number of conversions the advertiser gets from your website and this is how you are paid. It determines the website performance based on RON algorithm and ranks it using the data. If your website is ranked high, you will receive higher CPM rates for the impressions you get on the ads.
Easy Payment Terms: It follows Net7 payment policy. This means you will get payments every week. As soon as your threshold amount reaches $50, the payments are dispatched. You can choose to receive the payments through US Wire Transfer, Paxum, PayPal, International Wire Transfer, and few other means.
Statistics: The detailed reports can be monitored using its publisher's dashboard. You can check out the ad impressions and revenue share you are getting for each ad slot/size for each site. The revenue can also be calculated through the dashboard.
TrafficJunky Referral Program
Every one of us would love to make some extra income utilizing our speaking skills. TrafficJunky believes that Word of mouth is the best forms of marketing. It offers an opportunity to its users in the form of a referral program. The user can make money on each referral. You can make nearly 10% of amount the advertiser spent in a campaign on referring an advertiser.
Why Choose TrafficJunky?
There are fair enough reasons to go with this adult digital advertising platform over the other choices that you might have. Some of them have been highlighted in this TrafficJunky review.
It is one of the oldest and most trusted adult advertising networks that are serving the ads from some of the top websites like YouPorn, PornHub etc.
A publisher gets the benefits of weekly payout system while the advertiser can start a campaign at just $25.
It ensures that your account is secure. You can enable the two-step verification to improve the security of your account.
The publisher's website traffic gets high value in form o money while the advertiser can reach the targeted audience.
It gets 2.2 billion ad impressions from 141 million users worldwide daily.
Final Verdict
TrafficJunky is a very popular ad network that has emerged to be a powerful monetization solution for the adult website owners. Not only this, even the advertisers can reach valuable audience and get higher conversion rates switching to this digital advertising company. Sign up now!