A VPN is a virtual network of secured servers that is aided with an extra level of security to protect the user identity and help the users to browse the internet anonymously. A VPN usually masks the original IP of the user and replaces it with the dynamic IP it gets from the server to which the user is connected. If you are looking to find a secure VPN provider, but are confused which one to select then we have done a great bit of research for you. ShadeYou VPN is the most affordable and secured VPN provider that can be chosen by a user to surf the web with an anonymous identity. Let us explore more about it in this ShadeYou VPN review.
ShadeYou VPN – A Brief Knowhow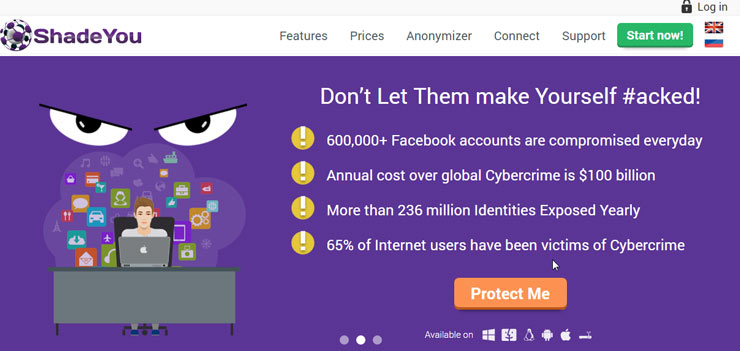 ShadeYou VPN is hosting its operations from Scotland, United Kingdom. It is an authenticate VPN service provider that has a high-standard built-in security. It blocks your IPS, hackers, and other intruders trying to break through your network security to steal your personal data. It offers the most secure servers in 15 different locations. It is a handy campaigner for people looking to browse the internet with an anonymous identity. You can bypass the government restrictions and access any website that is blocked in your country using the ShadeYou VPN. Let have a deep insight about it in the ShadeYou VPN review alongside.
Why you require a VPN?
There might be several reasons for which you might need a VPN to access the internet. Before we move on with this review, let us try to find out some of the obvious reasons to use a VPN.
To access any website in the world from any location bypassing the geo-restrictions and governmental barriers.
To encrypt the data being transferred on your network.
To protect strengthen your Wi-Fi security.
To protect your personal data.
ShadeYou VPN – Top Features
Internet is a wanted asset of some useful and useless data. Billions of users around the world have access to the internet. You will be amazed to know the fact that nearly 236 million identities are leaked every year and about 600,000 fall victims to cybercrime each day. There is a dire need of having a VPN like ShadeYou VPN. It is a secured VPN providing top level security to all its users. Some of its greatest features are as follows:
Multiple Servers at Different Locations
It has 25 servers spread across 15 countries of the world including USA, Canada, UK, Germany, Netherlands, Ukraine, France, Hong Kong, Spain, Romania, Sweden, Russia, Singapore, Australia, and Finland. You can connect to server of any country and switch between different servers within seconds.
Clean User Interface
The easy to navigate user interface makes it simple for the users to browse different options. You can easily connect to the VPN server and play with its settings according to your needs.
Unlimited Bandwidth
It provides unlimited bandwidth that lets you stream unlimited videos from any location in the world. Even if the server is receiving too much traffic, your speed will not be throttled.
Maintain the Anonymity & Bypass the Geo-Restrictions
One of the best things about this VPN provider is that it doesn't stores the user logs. You can browse with complete anonymity without getting caught by your ISP or any other intruder. It masks our IP and replaces it with a dynamic IP it gets from the server. It becomes next to impossible to track your activity on the internet.
Different Protocols Supported
It supports some of the safest protocols to aid its servers with extra bit of security. The protocols supported are PPTP, LLTP, and OpenVPN. The LLTP protocol is a universal protocol used by a number of VPN providers and is very fast while the OpenVPN is a stable protocol providing extra security.
DNS Leak Protection + Kill Switch
It resolves the problem of DNS leaking data to your ISP. It makes sure that you are connected to its own servers and a secured connected is established between the two. The traffic will be directed through ShadeYou VPN's servers. If the connection is lost in between, the browsing session will be terminated immediately.
2048/4096-Bit Encryption
It might take millions of years to break through its security even if you are using a super computer. All its servers are extra secure and the data transfer takes place using the 2048-bit/4096-bit encryption key. It is an impossible task for just anyone not knowing the key to decode the data being transferred.
Compatibility
It supports various operating systems including Linux, Mac OS, iOS, Android, and Windows XP/Vista/7/8. You can run its VPN client on PC, mobile or tablet.
Support
A user can contact the support staff through emails. They are generally quick to response to the emails and you may get the query solved within few hours. Moreover, you can reach out for tutorials and FAQ section in case of any query.
Setting up ShadeYou VPN Client
All you have to do is install its VPN client on your device and then follow the guide mentioned below.
Click on ShadeYou VPN icon from your device.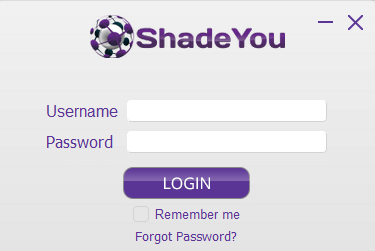 You must enter the username and password to login.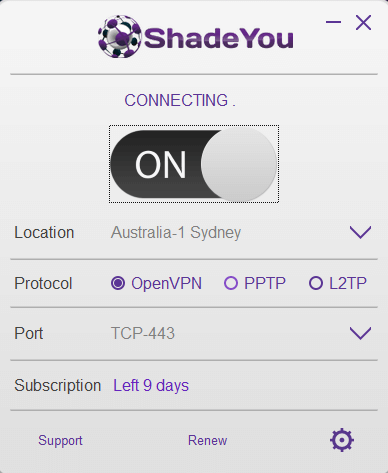 Let the connection to get established. You are ready to go once you are connected.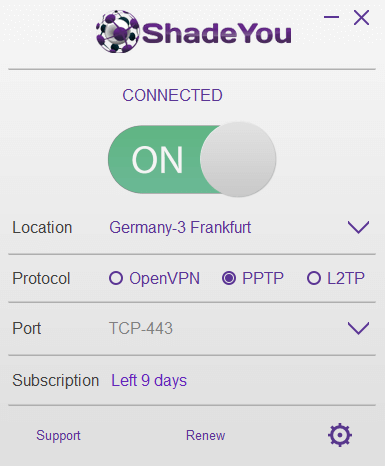 You can easily change your server location within seconds.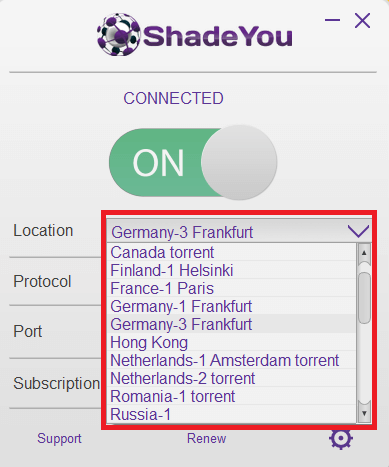 Go to 'Settings' by clicking on the icon on the bottom right-corner of the VPN client. Enable different settings and click on 'Safe' button to save.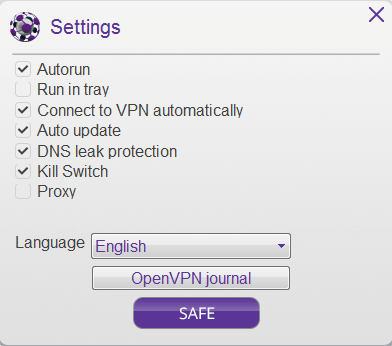 Browse the web anonymously, once you are done.
Pricing
It offers a free trial pack for 9 days. You can switch to 'Standard' or 'Premium' plans if you are happy with its service.
Standard Plan: This plan starts from $2.16 per month if you pay according to the yearly cycle. You can enjoy unlimited bandwidth, 2048-encryption key, DNS-leak protection, all OS and device support, 3 simultaneous connections, access to 18 servers in 12 different locations, and few more features.
Premium Plan: The plan starts from $2.33/month if you pay according to the yearly cycles. All features of Standard plan are provided, but with this plan you can connect to 5 devices simultaneously and get access to 25 servers in 15 different locations. Not only this, you get 4096-bit encryption key to secure your data.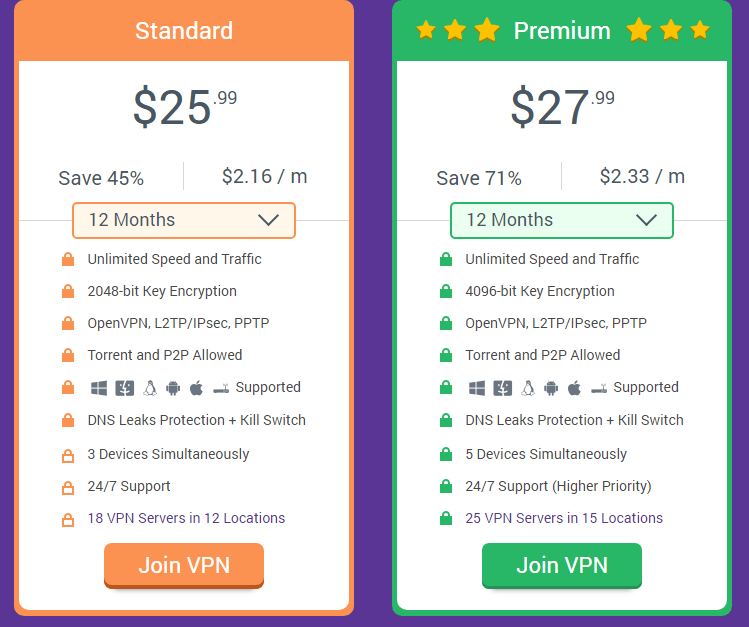 Verdict
ShadeYou VPN is an emerging VPN provider that is slowly gaining popularity. It offers the exclusive VPN plans with powerful encryption. The plan starts from as low as $2.16/month. Now bypass the geo-restrictions and access any website from your current location without a fear of getting caught. Utilize unlimited bandwidth to stream your favorite videos at ripening fast speeds. If you were looking for a powerful VPN solution then ShadeYou VPN is the perfect choice to make.