If you're searching for a video-conferencing solution, this Proficonf review should aid that search. It's a tool offering not just video-conferencing, but is packed with a ton of other features to supercharge our conferences.
Although sure there are other alternatives in the industry. How well does Proficonf compare to them? What are the exact features the company offers? Is it priced rationally? All of that (and more) is what we'll be discussing throughout this Proficonf review.
Before proceeding further, note that the company does offer a free plan. So your time on this Proficonf review wouldn't be wasted no matter what.
Proficonf Overview
Let's paint you a decent picture of the app before getting into the nitty-gritty details?
Website:

https://proficonf.com/

Cheapest plan:

Free (USD $0.00)

Room types:

Instant/ Scheduled / Private

Installation:

Not required (browser-app).

Participant roles:

Host / Moderator / Speaker / Participant

Sharing:

Screen / Files / Youtube / White-board.
Getting Started
The welcome-screen at Proficonf looks like this:
Now there are these two types of events which can be created- Instant and Scheduled.
If I click on "scheduled", this is what I get (do pay attention to the screenshot, it holds a number of features):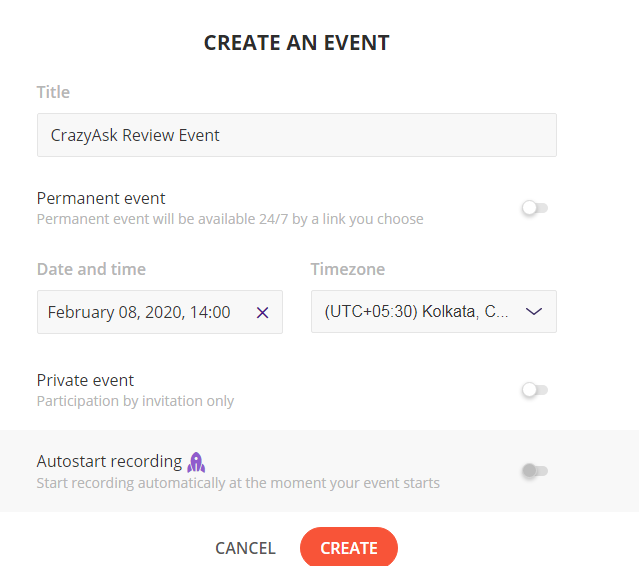 An easy selection of the date & time is all the requirement to finalize an event. I'm pretty sure the options above are understood even by first-timers.
Private Events
If you enable the "Private event" option, the participants wouldn't be able to join the conference without your manual approval. As in, every single user would be allowed to join only after you approve them.
Even these "requests" can be disabled. Once you have your participants, you can turn off the feature mid-conference. So no other would be able to even send a joining request.
However if the "Private event" option is turned off, all that's required to join your event/conference is the conference link you share with users.
Permanent Events
You might've also noticed the "Permanent Event" option. Well enabling that permalinks your event. In other words, the link which will be generated for your conference will be permanent. It can be used more than once, even forever if you choose to, to host conferences.
Your participants may bookmark it, save it,  and come back to it whenever needed without requiring new links. If it's disabled, you'd need to send new links for each new conference to your participants.
Auto-Record Conferences
The "Autostart recording" option does exactly what it sounds like, starts recording the conference automatically. Considering how we're talking about a scheduled event, you may forget to enable recording, right? (I sure would!) And hence enabling the option makes sure the event is recorded even if you forget to do so.
Note that the allowed recording-time for each session is 3 hours on the "Premium" plan, and 2 hours on the "Pro" plan. But there is no limit on how many such sessions you can record. So it essentially offers unlimited recording time, just in these hour-batches depending on your plan.
Even if you disable the auto-record option, recordings can still be manually started during a conference as we'll soon see.
Conference Interface
Here's the screen which is presented once an event is successfully created and started.  Note that if you select "Instant event" you get to this same screen as well. Although in the "instant event" you do not get the options shown in the earlier screenshot.
Rather, the conference is started instantly. Although most of those options can be enabled manually for the instant event as well. Here's the interface:

This screen too is pretty self-explanatory, isn't it? Those three red icons on the top-bar are for the "mic", "camera" and "exiting" the conference. Network strength and duration too are displayed on the top-bar.
If you didn't enable auto-record. Or if you're on an "instant event", you can click on the "REC" button to start recording.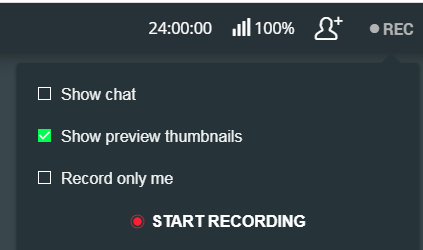 You can choose to record only yourself, enable/disable participant thumbnails, and either to show or hide chat messages.
The invite-button when clicked shows the conference link. Simply share it with the participants, or e-mail it to your list. There also is an in-built E-mail option which allows us to enter the E-mail IDs directly and send them invites.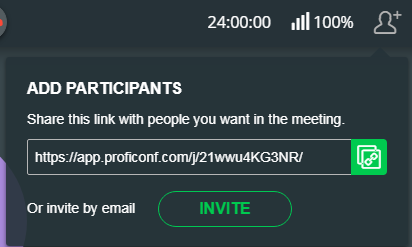 And finally the gear-icon on the extreme right of the top-bar can be used to access conference settings.
The left-sidebar
The left-sidebar is the most used section on a conference.  It offers three primary features:
Participant-control.
Chat
Share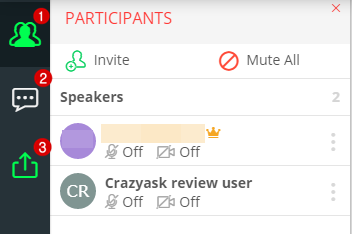 The Participants-section lists the names of all the participants in your conference. This I believe is the most interesting section on this Proficonf review. This is where you can assign "roles" to your participants. Or, you can exercise your powers and control the actions of other participants.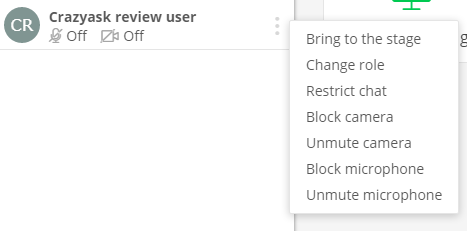 For starters, you can restrict chat for a user, block/unblock their camera, or block/unblock their microphone. This in my opinion keeps the chat clean and chaos-free.
The chat-icon reveals the chat window. It's where the chat messages from users are displayed. Note that chat messages can be disabled in general for the conference for all users.
And finally the third button says "Share". It allows us to share the following content:
Screen
Whiteboard
Youtube content
Or Files.
Screen-sharing: Users get three options while sharing screen. They can either share the entire screen, a specific application-window, or only a browser-tab. This makes sure that  you can share only what you want to, without having to reveal sensitive data.
Whiteboard: It's a drawing-screen. You can make use of lines, circles, rectangles or just free-draw whatever you wish, it's shared live with your participants.
Youtube content: Simply paste a Youtube link. The video is played live in the conference. It's like sitting in a room and staring at a common TV-screen.
Files: You can directly upload a file as well. The file is made available to all the participants. Participants can either download it, or preview it inside the conference directly.
User-roles
I just mentioned the power to assign roles to user in the above section of this Proficonf review, didn't I? Well there are 4 user categories:
Host: The account holder on Proficons, who creates the event/conference.
Moderator: Can change roles for users, control their mic/camera/chat options.
Speaker: Only has control over their mic/camera. Can not change other users' roles or settings.
Participant: Only can join a conference.
In-built File Hosting
The files which you share, are uploaded and kept on ProfiConf servers. Every participant in a conference gets 500MB of space for sharing files.
The total amount of files a host (creator of a conference/event) can share would depend on their pricing plan.
Joining Conferences- No Installations/Signups Required
The most appealing feature to me personally on this entire Proficonf review is this one. The participants to whom you send a joining-link, isn't required to download, install or even be a Proficonf user!
Anyone on the planet can join a conference as long as they have a web-browser and an internet connection. It currently supports Windows, MacOS, Linux, and even Android and iOS.
The browsers currently supported are:
Google Chrome
Mozilla Firefox
Opera
Safari
And Microsoft Edge.
So each invite-link when clicked, looks like this:
The user simply enters his/her E-mail  address, followed by their name. It's used to allocate the file-space for users. So the next time they use the same e-mail, they get access to their previously uploaded files.
All in all, joining conferences is extremely easy, fast and "not demanding".
Support Options
The company offers live-chat as well as e-mails for support. The live-chat is available 24X7. Informative guides and articles too are made available.
While using the tool by itself is extremely simple, the live-chat does help if and when you get stuck.
Pricing
This being the last section on this Proficonf review, let's see how much does it cost? The three pricing plans available on Proficonf are:
Free
Pro- USD $12.00/month.
And Premium- USD $25.00/month.
They all differ in their features and capacity, hence the following screenshot should explain things better: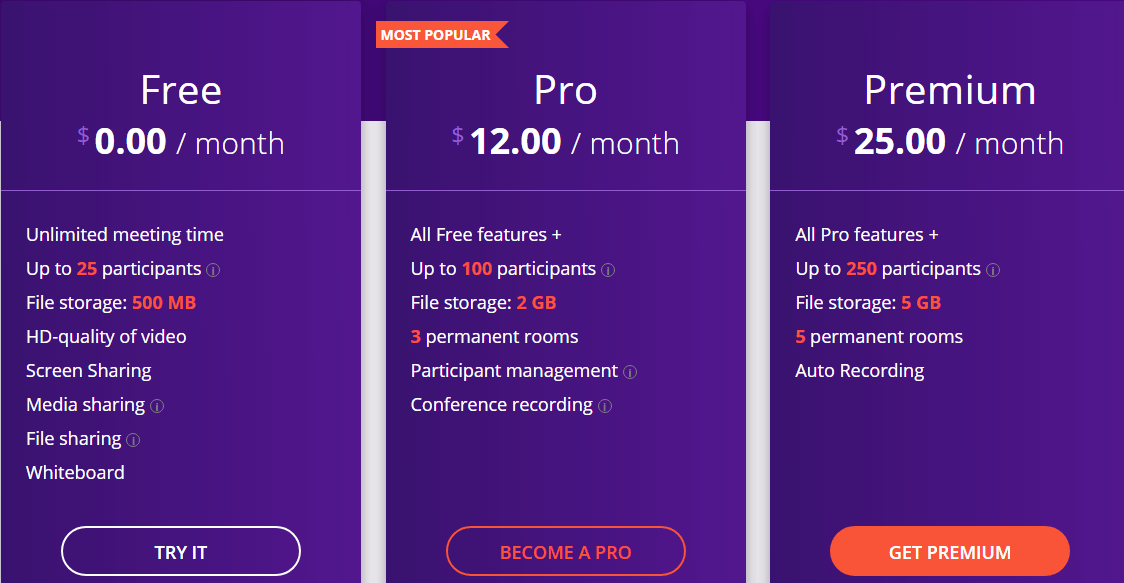 There also is a 14-day, no-questions-asked refund policy.  Upgrades from one plan to another only need the "difference-amount" to be paid and not the full amount of the upgraded plan.
Discount Code:
Because you spent your time going through this Proficonf review, just apply the code "CrazyAsk" when checking out. You'll receive a 15% discount on your first purchase of any plan.
Proficonf Pros and Cons
Let's sum this entire piece up then?
Pros:
250 Participants allowed.
Doesn't require any downloads/installations.
HD video-quality even on slow internet.
Multiple sharing options.
Cons:
List-invite not supported.
Final Words- Proficonf Review
So the tool allows a total of 250 participants in a conference (varies depending on plans). Because it doesn't require installation and is pretty feature-rich, I'd rate it a 5/5.
The only feature which I think it's missing is a list-invite. Meaning, the ability to invite entire e-mail lists to a conference by uploading the list. Except that, everything does seem to be rainbows and subshine.
However, you may or may not agree with this Proficonf review. I'd suggest giving the app a try for free, and then form a better idea of it maybe?