The number of people who don't like "Sports" on the planet is in the minority when compared to those who do; but then again the number of platforms which let you stream sports for free too is in the minority; and that's something we wish to address in this Networkstream.live Review.
Did you know that in a research conducted by TheHarrisPoll; it was found that 2/3rd of the Americans (Adults) watched the 2011 NFL. Also that Football made a huge impact on the previously dominating "Boxing" games in London when it comes to "popularity" purely because it offered more revenue than Boxing.
The two points I'm establishing here is; the world loves "Sports"; but they aren't merely recreational events anymore and have rather turned into some of the biggest income streams and businesses especially for TV channels and the media industry.
That is why the cable companies and online sports streaming sites today charge a major chunk of your salary if you wish to stream sports live online.
That is where this Networkstream.live review should help.
What is Networkstream.live?
In simplest possible words, Networkstream.live is a website which allows users to enjoy live-stream sports, absolutely free.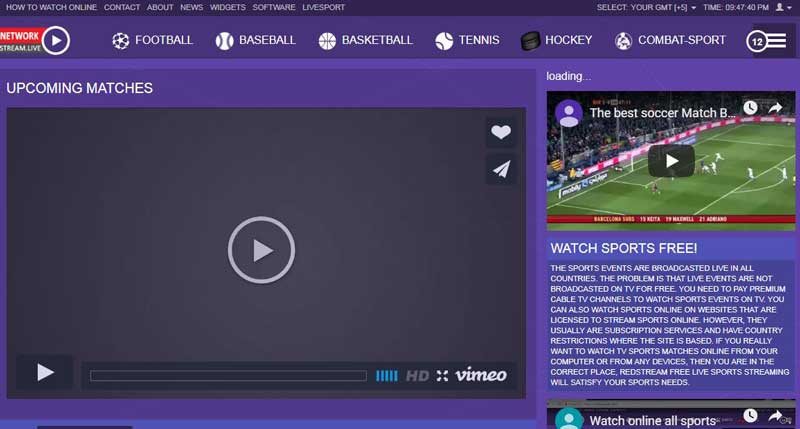 It doesn't require any downloads, special permissions or have any strings attached. You go to the site, and stream the sport of your choice for free, as simple as that.
The platform was created after the creators realized that there weren't many platforms (or probably any) which let users stream sports for free. Those which did exist either filled up the webpage with a ton of ads, or pure scams.
It's over 3 years old today since being launched on 25th Feb, 2016. For a website like this to have survived the crushing competition and censorship scrutiny does say a lot about it.
Is it Really Free? Does it Need Registrations?
Unlike most of its other contemporaries, Networkstream.live has really made an effort to be "free" in the literal meaning of the word.
For starters, it doesn't ask for any registrations. In case you didn't know, when you register on platforms, even the free ones; the platform would then use your E-mail to make money.
They may either send promotional E-mails with products you may purchase, or at times sell the e-mail lists directly to other interested third-parties.
That's one thing Networkstream.live doesn't believe in. Although it does offer the optional registration feature which doesn't ask for any personal information; all you need is an E-mail ID (which can be a fake, random, or completely anonymous) and a password. No verification required.
Then, the site is completely void of ads. Ads are another major and in most cases the primary way how websites make money.
Bottomline, you don't have to pay a single penny, or an iota of data in order to stream on Networkstream.live
Which Sports can be Streamed?
Networkstream.live markets itself as an all-rounder, a platform which doesn't discriminate between the sports on the basis of popularity, action involved, or anything else.
As a result, it lets us stream nearly all the major international as well as national sports; the list includes but isn't limited to:
Football
Cricket
Baseball
Hockey
Tennis
Darts
Volleyball
Table-Tennis
Weight-Lifting
Racing
Handball etc.
Networkstream.live User Interface
How much of skills or knowledge is required to stream on Networkstream.live? The user-interface is what decides that.
How well-placed the options are, how smooth the navigation and the overall understanding of the webpage is what we'll talk of in this Networkstream.live review section.
The platform pledges to put its users first always and forever, which also accounts for an extremely easy interface which it has designed for its users.
For starters, there's a top-bar on the site which lists all the major sports which can be streamed online on the website; the list includes Hockey, Football, Baseball, Tennis and so on.
Users can either click on one of the options available there or simply click on the three horizontal lines on the extreme-right to access a more detailed list containing all the available sports.

The site is then divided into a left and a right-pane; just below the top-bar is the video player, followed by a list of the available events.
The events are categorized into "Upcoming", "Live" and "All". Users can either check the Upcoming list to schedule their time for those events, or simply click on the "Live" link to get access to all the content which is being streamed at any given moment.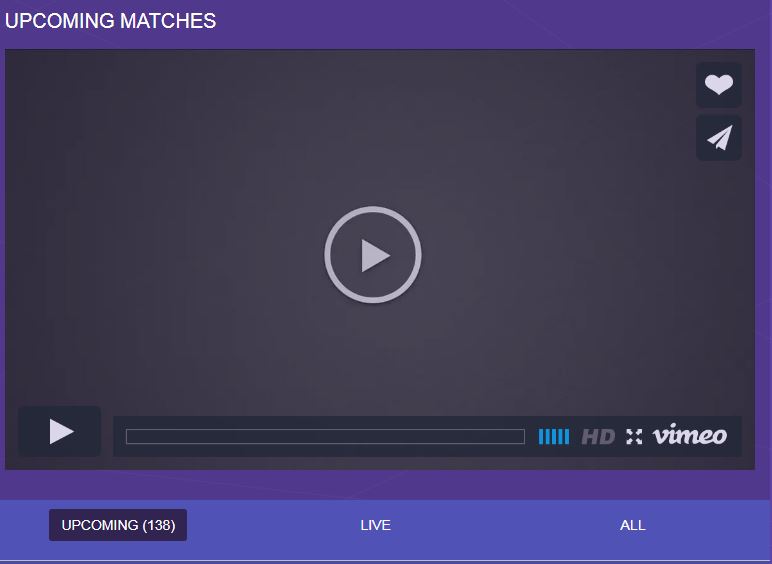 "All" as the name indicates is a mix of both the upcoming as well as Live events.
The list for each of these events is extremely detailed, it contains the Date and time of the events, the name of the sport being played in the event, the countries and/or competition involved in the events, involved teams as well as two simple buttons for playing the content.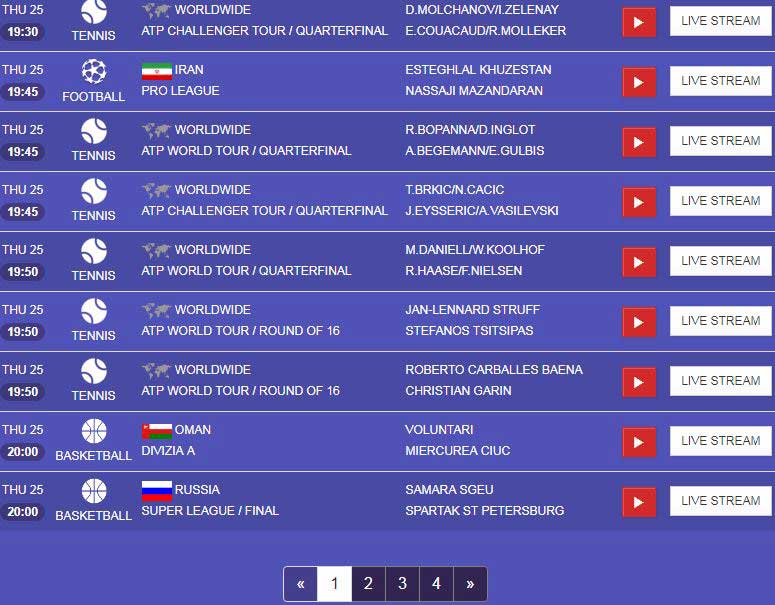 The next list can be accessed simply by clicking on the page numbers provided at the bottom of the list.
On the streaming-page, the website displays additional information for the content being streamed such as the name of the sport, competition, Date and Time, Home team as well as the Away team (opponent).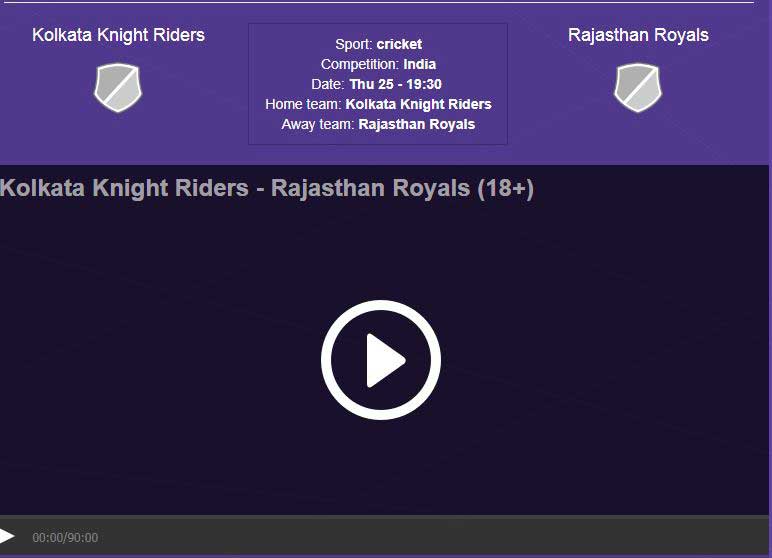 The left-sidebar simply has some content which provides additional information about the site, and has links to couple Youtube videos.
So in a nutshell, the site can be understood and operated by just about anyone with basic computer and English knowledge.
Does NetworkStream offer Downloads?
Being honest, I'm not entirely sure of the answer. Some of the streams did have a "download" button on them.
When clicked, they led me to a "this page doesn't exist" page. Now it may be that the specific content I was trying to download wasn't available. Or that no content is available for download in general.
Is it Illegal to Stream on Networkstream.live?
The cable companies and TV Channels buy streaming rights from the sports boards and various other committees before streaming the content on their platforms, and then charge for it.
Networkstream.live however doesn't charge users and the sources of its streams may or may not be questionable.
Note that streaming content without having the rights to do so (for the user) "is" illegal (not in respect of Networkstream.live; just a general fact).
But when the streaming company owns the rights or permissions to stream content for its users, it's a completely legal endeavour.
Hence, how legal or illegal it is to stream content from Networkstream.live will depend on the source being used to obtain the stream by the site.
They've mentioned that they let webmasters submit the streams and that is how visitors get access to the streams, again how those webmasters are getting access to those streams is what decides the legalities of streaming content.
Bottomline, streaming on Networkstream.live won't necessarily land you in jail, however you should make an effort to establish the legalities of streaming content according to your country-laws depending on where you live.
Or, if you'd just be cautious, feel free to use a VPN which would provide you with a security blanket just in case it's outside the boundaries of the law.
Wrapping Up Networkstream.live Review
So that's a wrap as far as this Networkstream.live review goes folks. We've talked about its registration policies, the sports available for streaming, user-interface, and even legalities.
There isn't much left to talk about considering how it's a simple, straight-forward streaming interface, is there?
So all I'd say is it's a good choice if you're a sport buff and paying for streaming sports isn't exactly something you're interested in.
Do let me know if you liked the service, as well as your opinion on this Networkstream.live review.