Fancy some fun? Grab your smartphone and try out these 10 incredible game apps. They were selected by gaming aficionados, and they rank highly with the online community. Let's kick things off with Hay Match. This is a brain game created by Match 3 Games, and it's designed to put your grey matter to the test. Rated 4.4/5 from hundreds of players, this pulse-pounding attraction is arguably one of the best farm games in the app-verse.  Hay Match is a puzzle game that requires you to match 3 identical items on screen, and pop them to clear rounds. Once you clear levels, you will rack up 3 gold stars and advance to the next level of the game. With 100+ challenging levels available, you're never going to be bored again!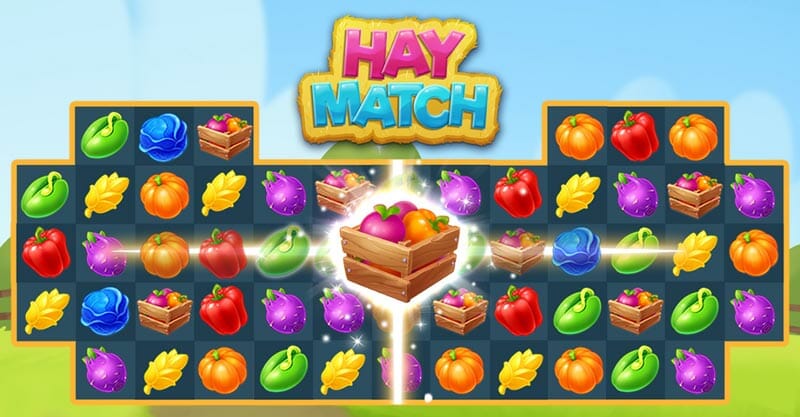 Next on the list is Wooly Blast – Fun Match 3D Puzzle Game. Our players enjoy this puzzle game by TokyoPlay. It has a terrific 4.6/5 rating from several thousand players, and it great for everyone. This adventure-laden game is one of those addicting games that lightly tests your puzzle-solving skills. At its core, it's a 3D spinner game. Don't expect to be challenged too much – it's not that type of game. It is a wonderful time killer though. This app has multiple engaging features including 3D game graphics, fun-filled worlds, calming gameplay and memory improvement features. As far as light-hearted puzzle games go, this one's a sure winner.
Threes is like poker – it's easy to learn and challenging to master. You are required to combine different numbers to make 3s. What's great about this game is that it leaves you feeling good about solving puzzles. This game app is rated 4.2/5 from several thousand players, and you are tasked with matching numbers to form 3s or multiples of 3s. PS – Threes game will grip you like a pit bull, and the music is soothing throughout. It's a great way to pass the time, learn a trick or two, and fine-tune your basic math skills.
Words with Friends is a great app to download and install. It will certainly help to improve your vocab and kill the boredom all at once. This game is fashioned off the Scrabble concept, and it pits you against random players or your friends. You can start off in solo play mode or go straight to the competitive mode and see how good your word forming skills are. This game app is rated E for everyone and has a 4.3/5 rating from over 711,000 players.
Series Guide is a nonconventional solution to boredom busting. This app is designed to better organize your TV watching escapades. Now, you can easily stay abreast of the latest show times, listings and TV series. You can also easily rate TV shows, make comments, and plan your daytime and night-time soap opera sessions. PS, this app has been rated 4.3/5 by 63,000+ reviewers – it's pretty good, and it works fabulously well.
Alpaca World HD is a farm-themed game with a difference. You are tasked with rounding up alpacas and then dressing them up. Perhaps not everybody's cup of tea, but it's zany enough to keep the boredom at bay and put a smile on your dial. This Android game has a surprisingly high rating of 4.6/5 from over 33,300 players. As the owner of an alpaca farm, you must pick the right colours, explore the terrain, and dress them up with some fancy accoutrements. All in all, a wonderful way to learn about alpacas, and have some fun.
Play Trivia Crack for fun. It's pretty much random facts that you're going to learn about stuff, but it will help you to pass the time, and you'll learn a thing or two in the process. Trivia Crack is an Editor's Choice award winning game with 6,242,330 reviewers giving it an overall 4.5/5 rating. Check out the general knowledge trivia questions and select from the multiple choices you are provided. In no time at all, you'll be fast tracking your way through 6 unique categories of fun and games. Say goodbye to boredom with this great app.
Fallout Shelter allows you to construct the ideal subterranean vault. It is the winner of the 2015 Golden Joystick Best Handheld/Mobile Game, and it is also the 2016 Dice Awards Winner for Mobile Game of the Year. Simply put, it's a great game. You'll be tasked with leading an underground community, providing for their needs, and helping them to improve their abilities. Protect your vault from internal and external threats, explore the wasteland, and construct a radio room for new inhabitants.
Brain training apps like Peak are in a league of their own. This particular game was created by top-tier game experts and neuroscientists. It was designed to enhance cognitive skills and abilities. If you find yourself debating whether you should watch the paint drying on the walls or challenging your mind – Peak is a terrific go-to option.  Peaklabs is known for creating high-quality educational games. This one is an Editor's Choice attraction and there are some 35+ brain games for you to work your way through. Mental acuity, learning, and memory improvement are features of this Android app. Peak has a 4.5/5 rating from 249,264 players – so you know it's a boredom killer.
Have you ever played with hamsters? These little rodents are lots of fun, and they are as cute as buttons. Hamster Collection is a game created by Ciagram CO Ltd, and it's rated E for everyone. This Japanese game is decidedly different to anything else you've probably played, with plenty of fun-filled features to amuse you. If you're a fan of hamsters, and you enjoy their cuteness, this is the game for you. Japanese games don't get much better than this – it's a boredom buster deluxe.