Just as with most types of media files, there are a lot of different formats that are used for music – including AAC, OGG, FLAC, and of course MP3. While MP3 has near-universal compatibility, other audio formats tend to be more limited and you may encounter difficulties playing certain formats on mobile devices, MP3 players, and so on.
That is why as a rule of thumb if you want your music to be playable on almost any device or platform, it is best to convert and store it in MP3. To do that you'll need a converter, and Movavi Video Converter will be able to help in that regard.
If you're doing a double take at the idea of using a 'video' converter to convert music, don't worry. The fact of the matter is that Movavi Video Converter is designed to convert all types of media files, including videos, images, and audio files. More importantly it supports practically all audio formats that you're likely to encounter, so you should be able to convert your music to any from any format that you need.
The main advantage of using Movavi Video Converter however is the fact that it will make converting music a walk in the park. In fact if you want the short version, all you really need to do is add the file, select a format, and click 'Convert'.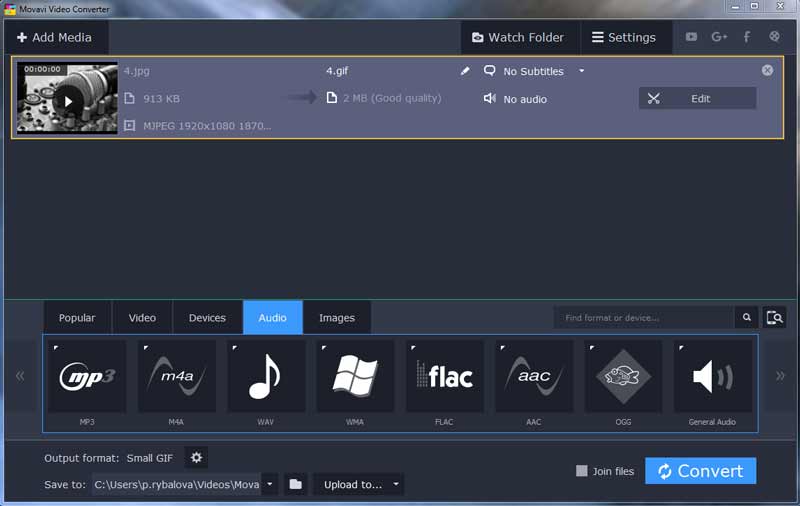 When you launch Movavi Video Converter you can add music files by either dragging them to the main working area, or clicking 'Add Media' then 'Add Audio' and selecting them. Next you can click on the 'Audio' tab near the bottom section of the interface, and select a category. For example if you wanted to convert FLAC to MP3, you'd select the 'MP3' category.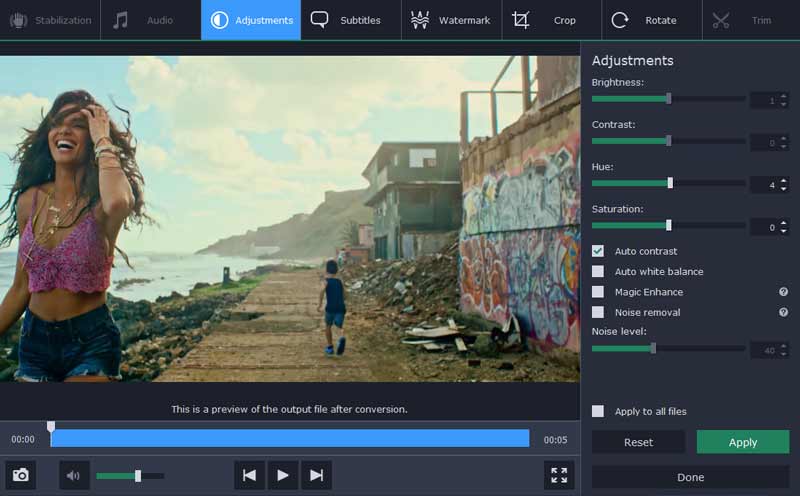 Under each format category, Movavi Video Converter will have several presets – each of which with a different audio bitrate. The bitrate will determine the quality of the music, so you should choose the one that best suits your needs while keeping in mind that a higher bitrate will also result in a larger file size.
Once you've selected a preset, you can click on the 'folder' icon near the 'Save to' field and set the destination folder you'd like your music to be saved in once it has been converted. Finally, just click 'Convert' and Movavi Video Converter will switch your music to the format you selected.
To be entirely honest the same basic steps can be applied to convert videos or images between formats. In fact you could even use Movavi Video Converter to create animated GIFs, grab screenshots or extract audio tracks from videos. It has several other notable features as well, and can be used to edit media files to enhance their quality, trim out unwanted parts, crop or rotate the frame, fix common issues, and much more.
For now all that is secondary, and what's important is that you should be fully aware of what you need to do if you want to convert your music between formats. Keep in mind that if you'd like to convert all your music to MP3 you can add them in a batch to Movavi Video Converter and convert them in a single go, rather than adding and converting each file individually.