Do you have a blog? Are you struggling to make the ends meet? Did AdSense recently ban you?
If you have a YES for any of the questions I have asked above, you should read this article from start to the end. I am going to help you make some money from your unfertile blog. Can you believe that?
I know you are obsessed with the money making capabilities of AdSense. But they follow a ton of guidelines and you can't always cut the mustard to get approved for an account.
So here, you read Adcash review through which I will show how to generate money from advertisements.
Adcash Review

If you have been in this field for a while, you might have heard this name. Being started back in 2007, Adcash has been serving over 200 million users around the globe. No, that's not a mistake! You have read it right, 200 million!!
Digging a little deep into the statistics, your jaw will be dropped to know that they have users from 249 countries in the world. Adcash serves 5.2 million conversions per month.
I hope I have convinced you to read this Adcash review further. Next, I will give you an overview of their features.
Features of Adcash:
During my testing, I have found the following specs of Adcash interesting. I hope you will do the same.
1). No Language Constraints
Being a non-English blogger, this might be the best thing you read in here in the Adcash review. If you are a blogger who thought about starting a blog in your native language and dropped the entire idea due to the lack of support from AdSense, you can carry on with the plan. Here I introduce Adcash that supports every single language in the whole earth.
You can easily integrate the ad code into your website in any language without any issues using any method you used to do for AdSense. After all, the level of success depends upon the strategy you adopt.
2). Multiple Advertisement Formats
If you have used AdSense in the past, you know how it works. It is almost impossible to pull great profits from a single ad format. So an ideal advertising network needs multiple advertisement formats. Here comes the next enticing info in this Adcash review.
Adcash offers about 12 different types of ads you can experiment with. Of course, they have some ad formats that may look disturbing to the users; such as interstitial and pop-unders. The best way to generate good money without disturbing your audience is to use the ad formats wherever necessary.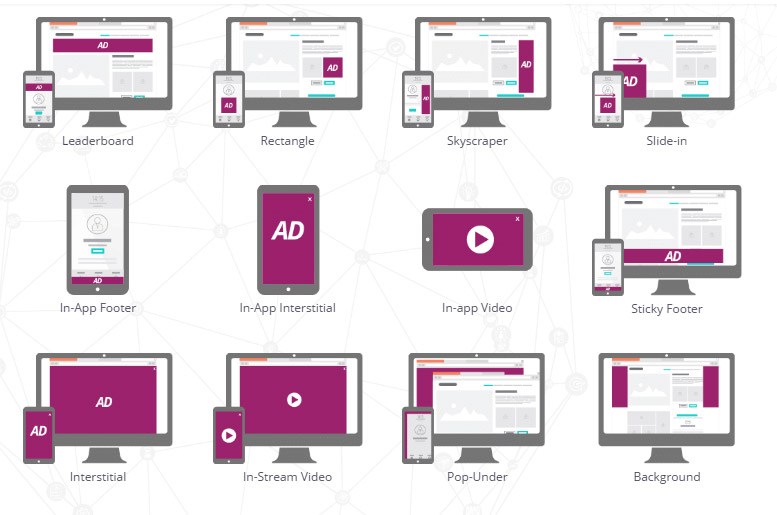 The ad formats offered by Adcash are.
Leaderboard ad
Rectangle
Skyscraper
Slide In
In-App Footer
Sticky footer
In-stream video ads
pop under and Background.
In-App footer.
In-App Interstitial
In-App Video.
The last three ad formats are dedicated to mobile versions of your websites. I hope you find this Adcash review helpful.
3). Easy-to-Use Dashboard
Adcash has an organized dashboard that presents all the features in an uncluttered way. So, you can choose any feature without wandering a lot through the dashboard.
You can browse through the ad units you created, start new campaigns, add or remove payment details, check the analytics and do a lot more from the dashboard. All you have to do is registering for a publisher account and integrate the ad code into your website.
Then boom! Don't forget to rush to the commenting section of this Adcash review to let me know your experience.
4). Real Time Reporting
Adcash follows brand-new technologies to track your user activities. Unlike most of the ad networks, Adcash presents you with the real time reporting. You can see every user engagement as soon as it happens.
What you understand from this info of this Adcash review?
Of course, you can figure out how much money you are going to make without waiting for the month ending to get the finalized earning.
5). Responsive Customer Support
You will get an individual managed once you are approved by Adcash. He/she will take care of your account and provides you with the best methods to maximize your income. In case you face any issue, you can seek their help to solve it right away.
See? How many ad networks give you a dedicated manager?
Isn't this one of the interesting things you read in this Adcash review?
6). Multiple Payment Methods
This Adcash review won't be completed without giving you the information about payment. You can choose any method to get the money. They support NEFT-30 through which you will directly get your money to your bank account within 30 days. You can also make use of PayPal, Payoneer, WebMoney and Skrill as well.
The threshold payment is 100 Euros.
How to Sign up for Adcash?
Do you think it's a herculean task to sign up for Adcash? No, it's not!
Just visit adcash.com and, click Register.
You have to provide your email, password for Adcash account and, choose your account type (advertiser or publisher).
Finally, you have to fill a form with your website and individual details. There you go!
Within 12 hours you will get the activation message via your email.
Final Verdict:
I have given you an overview of the features and the process of signing up for an account here in this Adcash review.
Being an internet marketer myself, I have the best experience with them. You will not curse their service even once after applying the ad code on your website.
In case you have any doubts regarding Adcash, you can head over to the comment form and ask there. I will try my best to help you out.
I expect you to share this article with your social media friends and followers.